Headstone & Memorial restoration & additional inscriptions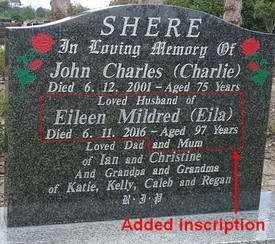 In addition to new memorials, we also offer a restoration service. We understand that keeping a headstone clean and pristine can be difficult, especially if you live in another town. So we offer a service to restore headstones to keep them looking like the day they were first set in place.
As it is common for more than one person to be buried in a plot, we also offer an additional inscription service (depending on the space allowed for initially). This is an important item to consider if, say, a husband and wife will be buried together - leave plenty of room on the headstone to allow us to add the additional information at a later time. Here's a perfect example of good pre-planning and how easy it is to add extra inscriptions at a later time.
Good pre-planning is something we discuss with all our customers as it saves considerable money in the long term.